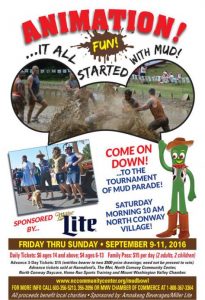 Mud Bowl, the championships of mud football, will celebrate a theme of "Animation! It All Started with Mud"as part of Mud Bowl Weekend, Sept. 9 through 11.
The theme will be used by participants in the team and the open class for the 34th  Tournament of Mud Parade, set for North Conway Village's Main Street Saturday, Sept. 10, at 10 a.m. Look for teams to play with such themes as "Mud Minions," "Frozen Mud," "The Lion (Mud) King," "Muddy Toy Story," ,"Muddy Monsters, Inc.," "Mud Duck Tales" and "A Muddy Tribute to Walt Disney."
Sponsored by Amoskeag Beverages of Bow, overall sponsors of Mud Bowl, the parade also features an open class.
Games in the double-elimination tourney are played at Steve Eastman Memorial Field at Hog Coliseum  Friday through Sunday, with the finals on Sunday. Cheerleaders, kids activities and food are featured.
Proceeds benefit local charities, with more than $870,000 having been raised since the first games were played locally in 1976. The games feature two-hand touch football, played in knee-deep mud, with seven players per side.
Ten teams from throughout New England play, including the defending 19-time champion Muddas Football Club of Amherst, N.H., who defeated seven-time defending champion Nashua Mud Gumbys of Nashua, N.H., 2-0, in the lowest-scoring finals ever.
ADVANCE TICKETS
Three-day tickets are $15; day tickets are $6 ages 14 and up, and $4 ages 6 to 13; family tickets (two adults, two children) are $15 per day. Advance tickets can be purchased at the North Conway Community Center, the Vaughan Learning Center (formerly known as North  Conway Day Care), Mount Washington Valley Chamber of Commerce, all in North Conway, and Home Run Sports Training Center on Hobbs Street in Conway.
Three-day tickets serve as entry to two $500 prize drawings held Saturday and Sunday (one need not be present to win).
For further information, call Ryan Sommer at the North Conway Community Center at (603) 356-2096 (northconwaycommunitycenter.org), or the Mount Washington Valley Chamber of Commerce at (603) 356-5701. You may also follow them on Facebook at Mt. Washington Valley Mud Bowl or at Mud-Bowl.org
https://www.horsefeathers.com/blog/wp-content/uploads/2020/07/Logo-250.png
0
0
admin
https://www.horsefeathers.com/blog/wp-content/uploads/2020/07/Logo-250.png
admin
2016-08-29 13:35:43
2016-08-29 13:35:43
2016 MUD BOWL – SEPT. 9-11, 2016