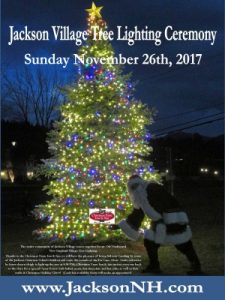 JACKSON NH – The entire Jackson Community invites you to come and see the unvailing of our all new and glimmering Christmas Holiday Tree Lighting. Jackson Village boasts one of the most beautiful evergreen trees you will see and this year the tree was very much a focal point of our Jackson Village Christmas Holiday/Winter Beautification Project. The Jackson Area Chamber of Commerce along with a committee of local businesses, residents and the Selectmen set out to enhance all the village winter decorations… and we want to show it off to you. You are personally invited to attend…
The gathering for the Annual Tree Lighting Ceremony is scheduled for Sunday evening November 26th, at 4:00 PM. The first 20 people to arrive will receive a candy cane and their choice of a Christmas Holiday hat. The Jackson Grammar School children and the Da Capo Singers will delight us with Christmas Caroling. Santa will do the honors of lighting the tree at exactly 4:30 PM.
Immediately following the Tree Lighting Ceremony Christmas Farm Inn & Spa has invited everyone back to their "Open House"; celebrate the beginning of the festive season with your friends and neighbors by the roaring fire in the historic Barn. Enjoy hot chocolate and home-made cookies by the Christmas Tree. Santa will be making an appearance.
Location: Jackson Village
Date: Sunday, November 26, 2017
Time: 8:00pm
603-383-9356
https://www.horsefeathers.com/blog/wp-content/uploads/2020/07/Logo-250.png
0
0
admin
https://www.horsefeathers.com/blog/wp-content/uploads/2020/07/Logo-250.png
admin
2017-11-13 14:43:13
2017-11-13 14:43:13
Christmas Holiday Tree Lighting – November 26th