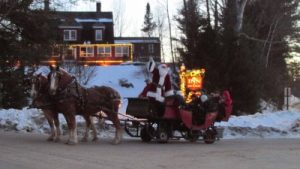 JACKSON NH – This incredible event is a Christmas & Holiday sell out each year. Deemed a must do "Chocolaty Delicious" event by all who ride. For only $25 each rider receives an average of 10 hand-made chocolates, a festive Christmas Holiday bag for any chocolates not eaten on the tour, a Jingle Bell and an Austrian Horse Drawn Sleigh Ride through the quintessential New England Village of Jackson, New Hampshire. Ticket sales are now open to any visitors booking their stays at one of our Jackson Member Lodging facilities found on our Lodging Page.
Ticket sales for anyone booking a group of 10 or more can book by calling 603-383-9356.
Your sleighs will stop at the Inn at Jackson, The Wentworth, An Elegant Country Inn, J-Town Deli & Country Store, The Thompson House Eatery, The Snowflake Inn, The RiverWood Inn, Flossies General Store and there are plans to add a few more. Check back often for updates.
Riders are expected to ring their jingle bells alerting the proprietors at each stop to bring you out more home-made chocolates. Sleigh rides through Jackson Village and Chocolate… what a wonderful experience.
IMPORTANT – Sleighs run hourly from 11 AM – 4 PM on the days listed. Each sleigh can hold 10 people. There are at least 4 sleighs that go out per hour.