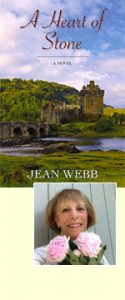 NORTH CONWAY NH – Please join us at White Birch Books for a Mid-week afternoon Happy Hour to welcome the new novel A HEART OF STONE by Mt. Washington Valley author, Jean Webb. We'll enjoy complimentary wine and cheese and get a chance to hear from the author herself.
ABOUT THE BOOK:
A HEART OF STONE is a riveting novel which tells the compelling story of two people who must overcome challenges and cross the sea to be together. The story first takes place in Scotland. Sean Wicklow arrives at the estate of his sister, Megan, and her husband Angus MacFarland to mend the breach in their relationship that has existed for many years. When Sean arrives, he finds that the MacFarland estate has been raided and devastated by outlaws, who have burned the manor house and town. They have left nothing behind but a small child, named Jane.
ABOUT THE AUTHOR:
Growing up in Massachusetts, the American Revolution was always a part of Jean's upbringing. Visits to the "Old North Bridge" and to the greens of both Concord and Lexington with their tributes to the heroes of the Revolution, were constant reminders of America's past. Marrying an Air Force Officer and being a military wife for thirty years also impacted Jean's experiences throughout life.
When Jean is not writing, she enjoys the winter sports New England offers, including downhill and cross-country skiing as well as spending time in Florida. In fact, you will not find her far from the golf course and enjoying time with her dear friends at the World Golf Hall of Fame.
https://www.horsefeathers.com/blog/wp-content/uploads/2020/07/Logo-250.png
0
0
admin
https://www.horsefeathers.com/blog/wp-content/uploads/2020/07/Logo-250.png
admin
2017-09-01 13:31:52
2017-09-01 14:21:12
Wine & Cheese Happy Hour with Local Author Jean Webb Tuesday, September 12 at White Birch Books