JACKSON NH – What is the Jingle Bell Chocolate Tour all about?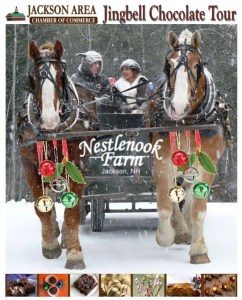 Jackson Village and Nestlenook Farm Resort have been putting on this incredible chocolaty delicious sleigh ride for more than 16 years. This event started with one sleigh going out twice on one day. Now sleighs go out 6 times per day for 8 days. This event is an Austrian horse drawn sleigh ride through Jackson Village. You start this enchanted journey by checking in at Nestlenook's Gazebo. You will walk into the Gazebo finding a heath side fire to warm you and the entire Gazebo filled with Christmas and Holiday decorations. Here you will pick up your first home-made chocolate treasure and a festive bag to use for any uneaten chocolates collected on your sleigh ride. You may sit in the sleigh found in the Gazebo and have family Christmas Holiday photos taken. Then you board your assigned sleigh and your magical journey begins…
Where does the Sleigh Ride Go?
You will be whisked away in your Austrian Horse drawn sleigh up, up and away to Jackson Village. Your sleighs will stop at the Inn at Jackson, the Wildcat Inn & Tavern, The Wentworth, An Elegant Country Inn, J-Town Deli & Country Store, Jackson Ski Touring Foundation sponsored by the Eagle Mountain House, the Snowflake Inn, and the RiverWood Inn. At each stop you do not have to get in and out of the sleighs… at each business the proprietors will bring you your next home-made chocolate treasures. Sleighs return to Nestlenook for disembarking.
How Long does the Tour Take?
You can expect to be on your sleigh ride for approximately one hour. Depending upon traffic throughout the village and how long each stop takes the timing may vary slightly.
Where to we park?
Very important… Nestlenook Farm Resort is open and operating their extremely wonderful winter activities during the Jingle Bell Chocolate Tour. The property is very busy. There are parking spots available to the left of the rotary where the sleigh leave from. This parking is limited and you may need to park in the upper overflow area or the Ticket and Rental main parking area… signs and parking attendant will be on site to help you with your parking needs. PLEASE do not attempt to park in the rotary area as that is where your sleighs will arrive and depart. Handicapped parking is always available as close to the event as possible please see signs and or the parking attendant.
Tell us about our Chocolatiers!
Each year our chocolatiers provide about 2,000 pieces of home-made chocolates to our riders. Although a percentage of the ticket price goes to the chocolatiers they are providing the service of meeting and greeting each sleigh and the chocolates at their expense. They volunteer to help keep this amazing event going. Please be sure to frequent our chocolatiers establishments and be sure the THANK THEM! Our Chocolatiers are: Nestlenook Farm, the Inn at Jackson, the Wildcat Inn & Tavern, The Wentworth, An Elegant Country Inn, the J-Town Deli & Country Store, the Eagle Mountain House & Golf Club (stationed at the Jackson Ski Touring Center), the Snowflake Inn, the RiverWood and on occasion – Flossie's General Store.
How can I get Tickets for a Jingle Bell Chocolate Tour?
Tickets are reserved for our Chocolatiers (see list above). If you are staying with one of our lodging partners you can purchase tickets directly through them any time of the year. If you are interested in booking 10 or more seats on a Sunday tour you can book any time of the year by calling the chamber: 603-383-9356! Remaining tickets go on sale to the general public on or after October 21st.
https://www.horsefeathers.com/blog/wp-content/uploads/2020/07/Logo-250.png
0
0
admin
https://www.horsefeathers.com/blog/wp-content/uploads/2020/07/Logo-250.png
admin
2019-11-11 07:56:02
2019-11-11 07:56:02
Jingle Bell Chocolate Tour – November 30th & December 1st