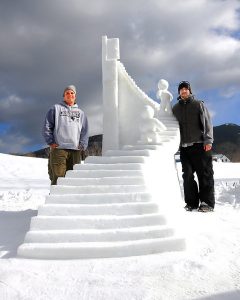 JACKSON NH – The Village of Jackson, New Hampshire and member businesses are preparing for one of it's favorite winter events… The 16th New Hampshire Sanctioned & Jackson Invitational Snow Sculpting Competition.
This incredible winter event begins on Friday January 26th at noon when teams from all over the Northeastern part of the United States will converge on Jackson Village. Sculpting continues through out the weekend and finishes at noon on Sunday the 29th. Spectators are welcome to view the entire process but to see finished pieces it is recommend you come back on Sunday the 29th. See first hand how our sculptors take 8' high by 4 foot round cylinder of compacted snow and create incredible art frozen in time. Sculpting pieces usually remain available for viewing for at least a week after the event giving visitors ample time to get coveted photos, however as weather is a factor we can not guarantee how long they will be standing. At night, during the event, the Sculptures are lit up giving them an entirely different perspective. We anticipate at least 15 teams for 2017 and a spectacular show!

Jackson is surrounded by 750,000 acres of the White Mountain National Forest and has held a special attraction for visitors for over 200 years that has reached around the globe. The area's landscape is picturesque, complete with a Historic Covered Bride, White Steeple Churches, Mountains and Rolling Farm Land. Combine that with a diverse selection of Lodging, Dining and Attractions, Jackson is a major four season resort destination and just the right place for this Grand Event.
There will be a bonfire for roasting of marshmallows, possibly a torch light parade, a scavenger hunt, and more planned throughout the event. The admission for viewing is free… donations to help keep this event for the future is always welcomed. We invite the public to attend the welcome dinner on Saturday evening and the awards banquet on Sunday afternoon for details please visit our website at www.JacksonNH.com or call the Chamber office at 603-383-9356. Each year this event becomes more fascinating with more and more teams and creativity. Don't miss your opportunity to become a part of the history of our Snow Sculpting event at Jackson Village, Jackson, New Hampshire!
Interested Sculptors… give the Chamber a call at 603-383-9356… Or down load the application off the website www.JacksonNH.com. You can E-mail it back to [email protected] or mail it to the JACC, PO Box 304, Jackson, New Hampshire, 03846.
Event will take place this weekend if there is not enough snow for sculpting our sculptors will be involved in other fabulous tasks.