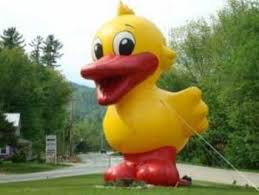 JACKSON NH – May 29th, 2016 the Wildcat River will have almost 3,500 yellow rubber ducks racing against each other on their way to the finish line. The Wilquack Duck River Festival has been helping to raise money for area non-profits such as the Kennett High Key Club, the local Special Olympics swim team, the Jackson Police Department, as well as the Jackson Area Chamber of Commerce. If you represent a local non-profit of the Jackson Area and would like to be included in this event you are encouraged to call the chamber at 603-383-9356… get involved and take advantage of this successful event.
Admission to this event is still FREE. Everyone is invited to line the riverbanks of the Wildcat River and help cheer their favorite duck onto victory. Duck tickets, food and other activities are priced accordingly.
Kick off for the festival starts Saturday May 14th & Sunday May 15th with the first appearances of Wildquack (our big furry duck mascot) from the hours of 2 PM until 4 PM throughout the Jackson Area. Be one of the first 5 people to spot Wildquack during that time and you could win a prize valued at $25 or more. You will also be able to purchase duck tickets during those sightings or at local participating businesses as well as the Jackson Area Chamber office.
The Duck races, food vendors, Kennett High Key Club Children activities, Artisan Tents, Jackson Cake Boss Competition, 5 Minutes of Fame Stage and more all takes place on Sunday, May 29th from 8 AM – 4 PM. You can sign up for your 5 minutes of Fame or the Jackson Cake Boss competition or if you would like to sign up to be in our parade just contact the office at 603-383-9356 or email [email protected] To find out detailed information, request a brochure or just enjoy some photos of past events, be sure to check out www.jacksonnh.com/event/119/Wildquack-Duck-River-Festival. To purchase Duck Tickets online visit www.jacksonnh.com/tickets-gifts.php. Tickets will be on sale at participating businesses from April 1, 2016 – May 28th. If there are any unsold tickets remaining the day of the event they will be on sale at the event until 2:30 PM.
Jackson, New Hampshire continues to be "New Hampshire's Best Kept Secret" and we want to share that Secret with you!
https://www.horsefeathers.com/blog/wp-content/uploads/2020/07/Logo-250.png
0
0
admin
https://www.horsefeathers.com/blog/wp-content/uploads/2020/07/Logo-250.png
admin
2016-04-18 10:50:24
2016-04-18 10:50:40
Wildquack Duck River Festival – Sunday, May 29th