Jackson Covered Bridge Dance – August 7th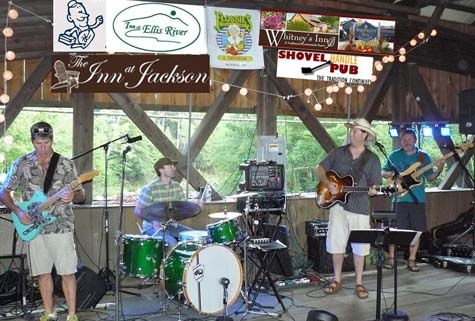 Jackson Area Chamber of Commerce celebrates the 18th Jackson Covered Bridge Dance… An "Old Fashioned Block Party" Saturday, August 07, 2021 – 6 PM until Midnight.
JACKSON NH – Dance the night away under the stars and the Jackson Covered Bridge while listening to Jon Sarty and the White Mountain Boys, the local favorite and choice band for this event, (live music starts at 7:30 PM and continues until 10:30 PM)
This event certainly will get your feet moving and, everyone knows, music and dance are good for the soul!
Come early, find your favorite spot, and have something to eat at the visiting food vendor spot. Tables and seating are on a first-come, first-serve basis, therefore, if you do not come early you may want to bring your chairs, blankets, and don't forget your friends.
Amazingly enough… this Jackson Community Event is FREE thanks to our wonderful sponsors; Flossie's General Store, Homer's Appliance Repair, the Inn at Jackson, Whitney's Inn at Jackson & the Shovel Handle Pub as well as the Inn at Ellis River. We are asking for consideration of a donation of $5 per person which will help with lost revenue due to Covid-19.
If you haven't been able to attend this event in the past now is your chance… the 2021 Covered Bridge Dance is gearing up to be one of the best community events of the year.
After what we have all been through in 2020 and all the challenges we face by having to isolate and not be able to let loose… music, dance, and friends outdoors is just what we all need to breathe deeply and have some fun!
It isn't often you see any of New Hampshire Covered Bridges closed to vehicles… but on this very special night, the Jackson Covered Bridge will be closed from 5:00 PM until Midnight for this great event. You know an event is worth the trip when it stops traffic! Of course… signs will be posted indicating that you can enter the Jackson Village loop by continuing north on Route 16 to the northern entrance less than 1/2 mile from the bridge and our finest Jackson Police crew will be on hand to redirect traffic as needed.
Please note… ALL Jackson Village businesses normally opened at the time of the dance will remain open for business during the event. Be sure and mark your calendars to join us for a night of Dancing under the Stars and the Jackson Covered Bridge. We will be following the Covid-19 guidelines and restrictions daily and will be sure to follow precisely! At this point and time Masks and Social Distancing are required.
The Jackson Fire Department, as in the past, has been invited to do a 50/50 raffle, and sell T-shirts and offering some other fun things to help raise money for their 2018 expenses and they will accept donations.
Parking for this event will be marked. Call the Jackson Area Chamber of Commerce at 603-383-9356 or 978-580-0905 or visit https://www.jacksonnh.com/event/27/Covered-Bridge-Dance for complete details. Remember to bring your dancing shoes!
https://www.horsefeathers.com/blog/wp-content/uploads/2021/07/jackson.jpg
354
475
admin
https://www.horsefeathers.com/blog/wp-content/uploads/2020/07/Logo-250.png
admin
2021-07-02 11:40:57
2021-07-02 11:41:23
Jackson Covered Bridge Dance – August 7th