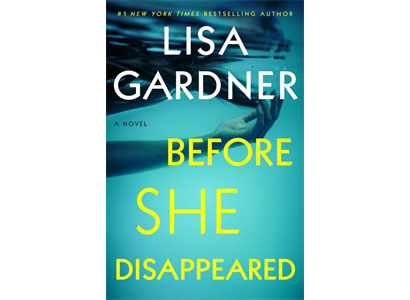 NORTH CONWAY NH – It's that time of year again! Lisa Gardner has a new book out, and this year, we're bringing the event to you! The event will be virtual and in partnership with WMWV.
Listen to the live hometown launch event on 93.5 WMWV (or at wmwv.com) or watch the live video stream on Facebook.
White Birch Books will be the only bookstore to have signed and personalized copies of the book! Order through the link below for personalized copies!
From #1 New York Times bestselling author Lisa Gardner, a propulsive thriller featuring an ordinary woman who will stop at nothing to find the missing people that the rest of the world has forgotten…
Frankie Elkin is an average middle-aged woman, a recovering alcoholic with more regrets than belongings. But she spends her life doing what no one else will–searching for missing people the world has stopped looking for. When the police have given up, when the public no longer remembers, when the media has never paid attention, Frankie starts looking.
A new case brings her to Mattapan, a Boston neighborhood with a rough reputation. She is searching for Angelique Badeau, a Haitian teenager who vanished from her high school months earlier. Resistance from the Boston PD and the victim's wary family tells Frankie she's on her own–and she soon learns she's asking questions someone doesn't want answered. But Frankie will stop at nothing to discover the truth, even if it means the next person to go missing could be her.
https://www.horsefeathers.com/blog/wp-content/uploads/2021/01/lisa-g-1.jpg
300
410
admin
https://www.horsefeathers.com/blog/wp-content/uploads/2020/07/Logo-250.png
admin
2021-01-15 13:38:28
2021-01-15 13:44:29
Lisa Gardner Book Launch – January 18th

JACKSON NH –
This Jackson Area Chamber of Commerce event will be held at Black Mountain Ski Area in Jackson and offers skiing and snowboarding options during the competition.
The event begins on Friday January 29th at noon with teams from all over the Northeastern part of the United States. The team will sculpt throughout the weekend and finish at noon on Sunday. Spectators are welcome to view the entire process but welcome to return on Sunday the 31st for the finished products. See first hand how our sculptors take 8 foot high by 4 foot round cylinder of compacted snow and create incredible art frozen in time.
Sculpting pieces usually remain available for viewing for at least a week after the event giving visitors ample time to get coveted photos. Please be aware that weather is a factor and we can not guarantee how long the snow sculptures will remain. The sculptures will be lit at night for an entirely different perspective. We anticipate at least 12 or more teams for 2020 and a spectacular show!  Check back often for more updates as this is our 20th Anniversary of the event and we will be sure to celebrate it with some exciting enhancements.
Bring the kids!
There will be scavenger hunts for the kids, and other exciting things to do. Admission for viewing is free but donations are welcome. Please note that lift tickets at Black Mountain are sold separately. We invite the public to attend the welcome dinner on Saturday evening and the awards banquet on Sunday afternoon… venue to be announced. For updates please check back often.
For more up to the moment details for the upcoming January 2021 event please check back. The venue will be posted by April 1st, 2020!
https://www.horsefeathers.com/blog/wp-content/uploads/2020/12/snowsculpting.jpg
800
1200
admin
https://www.horsefeathers.com/blog/wp-content/uploads/2020/07/Logo-250.png
admin
2020-12-10 15:04:36
2020-12-10 15:04:36
The 21st Jackson Invitational Snow Sculpting Competition! – January 28 -31

NORTH CONWAY NH – Celebrate the spirit of unity the Valley is known for with fireworks on December 31st.
Fireworks will be shot from the North Conway Golf Course, and can be seen as far as West Side Rd. to Cranmore Mountain to Depot Street. Enjoy them from your car or follow social distancing mandates if you choose to stand in Schouler Park and watch. While watching, think of those we've lost, those they've left behind, our essential and frontline workers; and a brighter future to come.
Schouler Park
North Conway Village
https://www.horsefeathers.com/blog/wp-content/uploads/2020/12/fireworks-north-conway-nh-1.jpg
801
1200
admin
https://www.horsefeathers.com/blog/wp-content/uploads/2020/07/Logo-250.png
admin
2020-12-10 14:49:32
2020-12-10 14:51:57
Fireworks in Schouler Park- New Year's Eve