BROWNFIELD ME: Oh, I love these these bluegrass greats!!! You name a bluegrass award and they have won it : Songwriter of the Year, Entertainer of the Year, Emerging Artist of the Year, Song of the Year, Vocal Group of the Year….and some of these multiple times! These brothers of bluegrass, write really amazing songs, have beautiful voices and are just the real deal. In a climate of new grass and a glut on new string bands, these brothers hold true to the old time bluegrass and country. They were featured on Prairie Home Companion last year and of course many of you have seen them here at Christmas….they always bring the house down. They have a sound that is so sincere. Its like they grew up in a country band decades ago, when the divisions of country music were not so defined. But they are every bit of here for today's' stages.
https://www.horsefeathers.com/blog/wp-content/uploads/2021/05/GB_portrait.jpg
475
830
admin
https://www.horsefeathers.com/blog/wp-content/uploads/2020/07/Logo-250.png
admin
2021-05-20 11:06:12
2021-05-20 11:07:17
The Gibson Brothers at SMAC – June 18th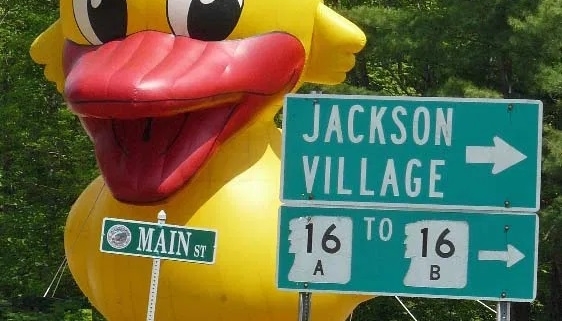 JACKSON NH: A recognized, Quintessential, New England Village and a highly visited resort destination plays host to the 31st Wildquack Duck Race & Music Festival on Sunday, May 30th, 2021!
Continuing with tradition admissions to the event remain FREE!
Food, Duck Races, Kids Activities, Traveling Train Rides, an Incredible Silent Auction
Live Music from Local Favorites Al Shafner and Dennis & Davey
Local Artisans wares on display and for purchase
kids games and activities
This is an entire community family fun-filled day in the park with so much to do throughout the day the events have its own brochure. The day's events start at 8 AM and the first Duck Race goes off at 1:45 PM. To receive your brochure of individual events and times… call the office at 603-383-9356/978-580-0905 or visit the website. You can request a mailed brochure by emailing [email protected].
Local and visiting food vendors offer fabulous barbeque foods, fair foods, kettle corn, ice cream, lobster sandwiches as well as other select items all affordably priced. Watch the "ever-growing" parade starting from the Covered Bridge at 1:30 PM, have your picture taken with "Wildquack" the Jackson Area Chamber of Commerce Duck, visit local businesses and really enjoy this "ole" fashioned "Day in the Park".
Visit and bid often at the amazing Silent Auction tables!
Purchase your duck tickets now through 2 PM the day of the race and your duck could win you one or more than 75 prizes. First place duck could win its ticket holder $1,000 in cash! You do not have to be present on the day of the event to win.
Regular ducks are $6 each or four for $20, up to 3,000 sold with the first prize of $1,000 cash
Olympic Ducks are $20 each only 130 sold with the first prize of 50% of all tickets sold which means if all 130 tickets are sold the first place winner could walk away with $1,300 cash
Our Big Ducks are $100 only 25 sold with first prize being $1,000 cash
Covid-19 restrictions are in place for outdoor venue events and we will be monitoring to assure everyone is doing their part the current stipulations are your group may be closer to one and other but must remain six feet from others, masks must be worn at all times. There will be masks available and sanitizing areas clearly marked throughout the park area. Should these restrictions tighten or loosen we will be keeping this page up to the date of any changes.
https://www.horsefeathers.com/blog/wp-content/uploads/2021/05/Big-duck-with-Jackson-Village-sign.jpg
671
562
admin
https://www.horsefeathers.com/blog/wp-content/uploads/2020/07/Logo-250.png
admin
2021-05-20 10:33:21
2021-05-20 10:38:44
Wildquack Duck Race & Music Festival – May 30th

Conway, NH – The Conway Area Humane Society invites you to join one of our biggest annual events to help animals in need.
Year after year, our mission remains the same – we strive to save as many animals as our budget will allow. This work is made possible with the help of our community members and the beloved fundraising events we host, such as Paddy O'Paws.
Sponsored by Granite State Contract Furnishings! Please help us make this event fun and successful by attending our first ever Paddy O'Paws Live Virtual Auction! Join us on March 25th at 7pm for a live auction and tales from our shelter, including a heartwarming story about Seraphina, the fire kitty.
Executive Director, Tim Westwig, and co-host Knute Ogren will keep you entertained while sharing the spotlight with guest speaker Thom Pollard! We invite you to an important evening of community-centered fun that you can attend right from your couch, cuddled up beside your furriest family members.
Bidding starts now! Sign up here: https://event.gives/paddyopaws
Local restaurants have partnered with CAHS and will offer take out dining options for the big night! Before the event begins, place an order to go with any of these establishments. CAHS will receive a portion of these proceeds. Bone Appetit!
https://www.horsefeathers.com/blog/wp-content/uploads/2021/03/paddy-paws.png
275
788
admin
https://www.horsefeathers.com/blog/wp-content/uploads/2020/07/Logo-250.png
admin
2021-03-12 08:18:40
2021-03-12 08:18:53
Paddy O'Paws Virtual Auction – March 25th