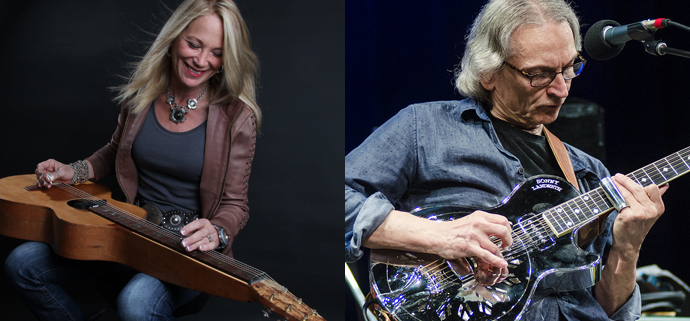 BROWNFIELD ME – One great night is made up of Sonny Landreth and Cindy Cashdollar making a rare duo appearance. Louisiana's slide guitar wizard will deliver his bottle-neck style slide chops while Austin's sweetheart of the steel guitar will showcase the renowned talent that earned her a spot in the Texas Music Hall of Fame.
Sonny Landreth: Revered for his unique slide guitar technique, Sonny Landreth has collaborated with many legendary performers including John Hiatt, Jimmy Buffett, Mark Knopfler and Eric Clapton. Summer of 2013, Sonny was part of the Peter Frampton led Guitar Circus tour, often closing the night playing with Frampton on an extended "While My Guitar Gently Weeps."
Cindy Cashdollar: Cindy's expertise is in great demand on both steel guitar and dobro. She has worked with many leading artists in various genres including Bob Dylan, Van Morrison, Rod Stewart and Ryan Adams. With the iconic western swing group Asleep At The Wheel, she garnered 5 Grammy awards and was the first woman to be inducted into the Texas Steel Guitar Hall of Fame in 2011. Performing a mix of original songs with contemporary and traditional blues and roots music, the show is electric, virtuosic, and tastefully delivered by these two great instrumental masters.
https://www.horsefeathers.com/blog/wp-content/uploads/2022/08/landreth_and_cashdollar_webpage.jpg
375
690
admin
https://www.horsefeathers.com/blog/wp-content/uploads/2020/07/Logo-250.png
admin
2022-08-23 15:24:25
2022-08-23 15:26:56
Sonny Landreth and Cindy Cashdollar – September 30th

NORTH CONWAY NH – On August 29, the Conway Area Humane Society is holding its annual Putts for Pets Golf Tournament. As many of you know, CAHS is committed to rescuing, rehabbing, and re-homing an array of pets in the Conway area. They take in strays, rescue pets from kill shelters in the south, work with the local Animal Control Officers with quarantine and maintain a large boarding facility in Conway. To see one of their feel-good stories learn about Setter Sam.
Where: North Conway Country Club
https://www.horsefeathers.com/blog/wp-content/uploads/2022/08/putt2-1.jpg
300
900
admin
https://www.horsefeathers.com/blog/wp-content/uploads/2020/07/Logo-250.png
admin
2022-08-23 15:16:15
2022-08-23 15:19:19
Putts for Pets Golf Tournament – August 29th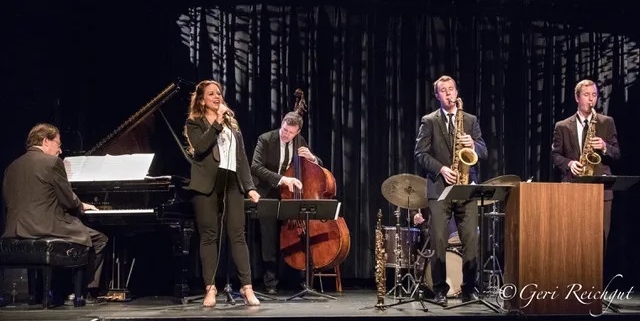 CONWAY NH – Identical twins Peter and Will Anderson have performed concerts together since the age of 9. They've graduated Juilliard, performed on Broadway, at Carnegie Hall, The Kennedy Center and at the New Orleans Jazz. Festival. In this performance, they'll cover the work of the greatest tin-pan-alley songwriter, Irving Berlin. His masterpieces include Blue Skies, Puttin' on the Ritz, Cheek to Cheek, God Bless America, and White Christmas. Berlin is considered one of the greatest songwriters in American history with a body of work totalling over one thousand songs.
The Andersons can be heard on the Grammy-Winning soundtrack of HBO's Boardwalk Empire with Vince Giordano's Nighthawks. They received a Drama Desk Nomination for their Off-Broadway Production "Le Jazz Hot" in 2012. Aside from leading performances in over 45 U.S. States, in Japan, Brazil, Canada and the U.K., they've lectured at over a dozen Universities. including Florida State, Xavier, Temple, and Ohio State.
The quintet features Peter Anderson – tenor & soprano sax, clarinet; Will Anderson – alto sax, clarinet, flute; Molly Ryan – vocals; Dalton Ridenhour – piano; Alex Raderman – drum set
"Saxophones and clarinets elegantly converge, converse and engage in delightful conterpoint…the arrangements, imaginatively unfolding in ways that consistently bring a fresh perspective to classic pop and jazz tunes"
– The Washington Post
On the Main Stage of the Majestic Theatre. Admission limited to those over 18 or accompanied by parent / guardian.
Doors and Majestic Cafe concessions open at 6:30 pm, music at 7:30 pm.
https://www.horsefeathers.com/blog/wp-content/uploads/2022/08/andersons.jpg
327
640
admin
https://www.horsefeathers.com/blog/wp-content/uploads/2020/07/Logo-250.png
admin
2022-08-09 14:07:29
2022-08-09 14:07:29
Anderson Brothers Quintet – Irving Berlin Songbook – August 27th