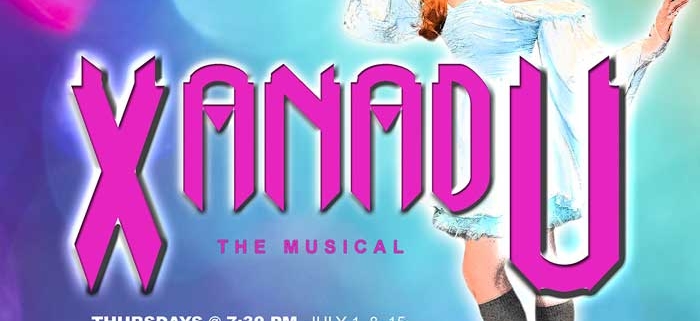 NORTH CONWAY NH – This Tony Award-nominated, hilarious, roller skating, musical adventure about following your dreams despite the limitations others set for you, rolls along to the original hit score composed by pop-rock legends, Jeff Lynne and John Farrar. Based on the Universal Pictures cult classic movie of the same title, which starred Olivia Newton-John and Gene Kelly, Xanadu is hilarity on wheels for adults, children and anyone who has ever wanted to feel inspired. Xanadu follows the journey of a magical and beautiful Greek muse, Kira, who descends from the heavens of Mount Olympus to Venice Beach, California in 1980 on a quest to inspire a struggling artist, Sonny, to achieve the greatest artistic creation of all time – the first ROLLER DISCO!
Thursday, Friday, Saturday at 7:30 pm (July 2 , 3 , 4 , 8 , 9 , 10 , 11 , 15 , 16 , 17 , 18 )
Sunday at 3:30 pm
M&D at the historic Eastern Slope Inn Playhouse
2760 White Mountain Highway
North Conway, NH
603-733-5275
Director Mark Sickler
Music Director Mary Bastoni
Choreographer Chelsea Hupalowsky
Book by Douglas Carter Beane
Music and Lyrics by Jeff Lynne and John Farrar
Based on the Universal Pictures film with a screenplay by Richard Danus & Marc Rubel
https://www.horsefeathers.com/blog/wp-content/uploads/2021/07/xanadu-poster8.jpg
739
700
admin
https://www.horsefeathers.com/blog/wp-content/uploads/2020/07/Logo-250.png
admin
2021-07-02 11:49:04
2021-07-02 11:49:04
XANADU The Musical live on stage – Month of July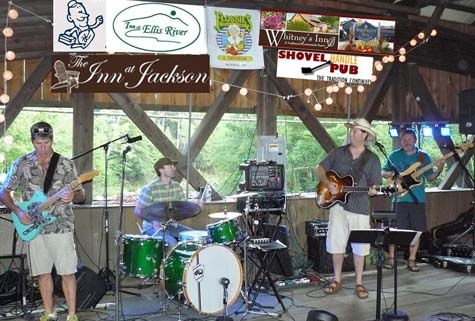 Jackson Area Chamber of Commerce celebrates the 18th Jackson Covered Bridge Dance… An "Old Fashioned Block Party" Saturday, August 07, 2021 – 6 PM until Midnight.
JACKSON NH – Dance the night away under the stars and the Jackson Covered Bridge while listening to Jon Sarty and the White Mountain Boys, the local favorite and choice band for this event, (live music starts at 7:30 PM and continues until 10:30 PM)
This event certainly will get your feet moving and, everyone knows, music and dance are good for the soul!
Come early, find your favorite spot, and have something to eat at the visiting food vendor spot. Tables and seating are on a first-come, first-serve basis, therefore, if you do not come early you may want to bring your chairs, blankets, and don't forget your friends.
Amazingly enough… this Jackson Community Event is FREE thanks to our wonderful sponsors; Flossie's General Store, Homer's Appliance Repair, the Inn at Jackson, Whitney's Inn at Jackson & the Shovel Handle Pub as well as the Inn at Ellis River. We are asking for consideration of a donation of $5 per person which will help with lost revenue due to Covid-19.
If you haven't been able to attend this event in the past now is your chance… the 2021 Covered Bridge Dance is gearing up to be one of the best community events of the year.
After what we have all been through in 2020 and all the challenges we face by having to isolate and not be able to let loose… music, dance, and friends outdoors is just what we all need to breathe deeply and have some fun!
https://www.horsefeathers.com/blog/wp-content/uploads/2021/07/jackson.jpg
354
475
admin
https://www.horsefeathers.com/blog/wp-content/uploads/2020/07/Logo-250.png
admin
2021-07-02 11:40:57
2021-07-02 11:41:23
Jackson Covered Bridge Dance – August 7th

BROWNFIELD ME: Oh, I love these these bluegrass greats!!! You name a bluegrass award and they have won it : Songwriter of the Year, Entertainer of the Year, Emerging Artist of the Year, Song of the Year, Vocal Group of the Year….and some of these multiple times! These brothers of bluegrass, write really amazing songs, have beautiful voices and are just the real deal. In a climate of new grass and a glut on new string bands, these brothers hold true to the old time bluegrass and country. They were featured on Prairie Home Companion last year and of course many of you have seen them here at Christmas….they always bring the house down. They have a sound that is so sincere. Its like they grew up in a country band decades ago, when the divisions of country music were not so defined. But they are every bit of here for today's' stages.
https://www.horsefeathers.com/blog/wp-content/uploads/2021/05/GB_portrait.jpg
475
830
admin
https://www.horsefeathers.com/blog/wp-content/uploads/2020/07/Logo-250.png
admin
2021-05-20 11:06:12
2021-05-20 11:07:17
The Gibson Brothers at SMAC – June 18th