NORTH CONWAY NH – The White Mountain Waldorf School's 33rd Annual Winter Craft Faire from 10am-2pm at the North Conway Community Center. Local Artisans, craft activities for children, puppet shows by our Early Childhood and Kindergarten teachers, stories by King Winter in the Crystal Cave, food and more!
Join the White Mountain Waldorf School for the 33rd Annual Winter Craft Faire. Local Artisans and Vendors will be selling beautiful crafts and goods. Faculty and students will be hosting crafting tables for children to make a craft for themselves or to give. Food will be for sale. Puppet Shows and King Winter, along with the Pocket Lady will be happening throughout the day. Don't miss this wonderful event! Free admission, buy tickets at the door to use to pay for food and crafts.
Tickets to pay for crafts, entrance to puppet shows and King Winter, available at the door
A wonderful event for familes!
http://www.horsefeathers.com/blog/wp-content/uploads/2019/11/logo-250.png
0
0
admin
http://www.horsefeathers.com/blog/wp-content/uploads/2019/11/logo-250.png
admin
2019-11-11 08:05:37
2019-11-11 08:05:37
33rd Annual Winter Craft Faire - November 16th
JACKSON NH – What is the Jingle Bell Chocolate Tour all about?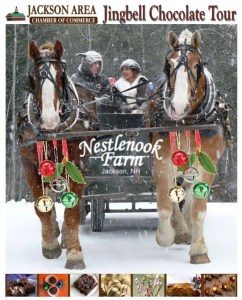 Jackson Village and Nestlenook Farm Resort have been putting on this incredible chocolaty delicious sleigh ride for more than 16 years. This event started with one sleigh going out twice on one day. Now sleighs go out 6 times per day for 8 days. This event is an Austrian horse drawn sleigh ride through Jackson Village. You start this enchanted journey by checking in at Nestlenook's Gazebo. You will walk into the Gazebo finding a heath side fire to warm you and the entire Gazebo filled with Christmas and Holiday decorations. Here you will pick up your first home-made chocolate treasure and a festive bag to use for any uneaten chocolates collected on your sleigh ride. You may sit in the sleigh found in the Gazebo and have family Christmas Holiday photos taken. Then you board your assigned sleigh and your magical journey begins…
Where does the Sleigh Ride Go?
You will be whisked away in your Austrian Horse drawn sleigh up, up and away to Jackson Village. Your sleighs will stop at the Inn at Jackson, the Wildcat Inn & Tavern, The Wentworth, An Elegant Country Inn, J-Town Deli & Country Store, Jackson Ski Touring Foundation sponsored by the Eagle Mountain House, the Snowflake Inn, and the RiverWood Inn. At each stop you do not have to get in and out of the sleighs… at each business the proprietors will bring you your next home-made chocolate treasures. Sleighs return to Nestlenook for disembarking.
http://www.horsefeathers.com/blog/wp-content/uploads/2019/11/logo-250.png
0
0
admin
http://www.horsefeathers.com/blog/wp-content/uploads/2019/11/logo-250.png
admin
2019-11-11 07:56:02
2019-11-11 07:56:02
Jingle Bell Chocolate Tour - November 30th & December 1st
ALBANY NH –  Author Series: Mike Dickerman White Mountains Hiking History
Thursday, November 14, 7pm
Nature Learning Center, Albany

Mike Dickerman, author of the White Mountain Guide and numerous other hiking guides, will chronicle the early trails, guides, and path-makers, who, over a 100-year period, helped develop the White Mountain region's extensive trail network that today includes more than 500 footpaths covering some 1400 miles.
The program will focus on the period between 1819 and 1925, beginning with the establishment of the historic Crawford Path up Mount Washington and concluding with the completion of the trail network as we know it today.
Nature Program Series
Tin Mountain Conservation Center, 1245 Bald Hill Road, Albany, NH 03818
Thank you to The Generous Sponsorship of Bank of NH & Hancock Lumber
Donations of $3/person & $5/family, unless otherwise stated, are greatly appreciated 
Special thanks to our food sponsors: Flatbread Company of North Conway, Frontside Coffee Roasters & the Old Village Bakery
603-447-6991
Click for more info: www.tinmountain.org
http://www.horsefeathers.com/blog/wp-content/uploads/2019/11/logo-250.png
0
0
admin
http://www.horsefeathers.com/blog/wp-content/uploads/2019/11/logo-250.png
admin
2019-10-29 08:08:40
2019-10-29 08:09:15
Author Series: White Mountains Hiking History - Nov 14