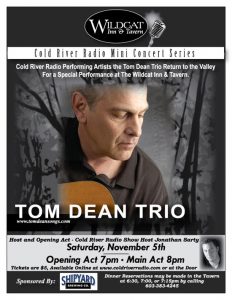 Wildfires in the hills and canyons of Los Angeles, radio ghosts, the road, redemption, Elvis, the moon, Robert Johnson, small town New England life and of course love and all its entanglements. These are the themes one can expect from this well traveled, seasoned songwriter and his prolific song writing partner, lyricist George Wardwell.
After ten years of touring and three independently released recordings the legendary Ahmet Ertegun, Chairman of Atlantic Records, signed Devonsquare after hearing Tom's song "Walking On Ice" from the self released CD of the same name. Devonsquare went on to record another CD "Bye Bye Route 66" for Atlantic (which spawned the critically acclaimed single "If You Could See Me Now") tour internationally and to share stages with the likes of Bonnie Raitt, Peter Frampton and Steven Stills.
This special appearance will feature Teg Glendon (bass guitar) & Rob Coffin (electric and acoustic guitars) and Jonathan Sarty opening the show.
Dinner Reservations are Required for Guaranteed Seating
Tickets may also be available at the door but these shows often sell out.

Musical Style: Americana, folk rock
Website: tomdeansongs.com
http://www.horsefeathers.com/blog/wp-content/uploads/2019/11/logo-250.png
0
0
admin
http://www.horsefeathers.com/blog/wp-content/uploads/2019/11/logo-250.png
admin
2016-11-03 14:57:13
2016-11-03 14:59:08
Cold River Radio Mini Concert November 5th will feature The Tom Dean Trio